Take vacations and go to as many places as you can go.
You can always make money, you can't always make memories!
Our yoga retreat in Rishikesh India offers the best opportunity to enrich your experience of practicing yoga with a group of like-minded individuals whether you are a beginner or a regular doer. YogaFaculty encourages you to delve into your yoga practice, engross yourself into the Indian culture and relax and recreate at our beautiful ashram located in Rishikesh. This retreat provides a perfect opportunity to expand your yoga practice in a relaxed and tranquil environment through our yoga teacher training held in conjunction with graduate program.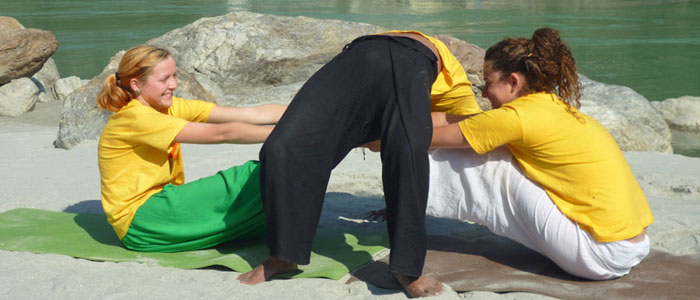 Our onsite YogaFaculty teaching team assures to provide you a holistic, rich and varied experience of yoga. At the same time, you are encouraged to enjoy the exotic surroundings of Rishikesh such as Ganges River, temples, local markets and rice fields. It is an ideal place to get accustomed to Indian life style. It is a perfect launch pad to travel around Rishikesh just by yourself after the retreat, if your schedule admits.
The Ashram is located within walk-able distance at the center of Rishikesh and provides a quiet and peaceful environment for yoga practice.
The YogaFaculty retreat schedule includes:
Seperate Room For Each person
Hot & cold Water
Two Yoga classes everyday
One meditation session everyday
One philosophy lecture / group discussion twice a week.
Internal cleansing exercises (Kriyas) like pranayama, body alignment twice a week
One day excursion to one of the tourist places nearby accompanied by our ashram staff
Pure vegetarian and sattvic meals (for breakfast, lunch & dinner) with buffalo milk / herbal tea will be provided everyday
We provide meals made up of vegetables, wheat and rice at our ashram
We recommend the complete program in general. But the guests are also welcome to choose activities liberally from the programs depending on their personal preferences and needs
Daily Schedule for Yoga Retreat
| | |
| --- | --- |
| 06.00am | Wake-up |
| 07.00am | Purification/Pranayama or  Satsang (group discussion/meditation/mantras chanting) |
| 08.00am | Milk/juice |
| 09.00am | Hatha Yoga  class |
| 12:00m | Lunch |
| 02.00pm | Karma Yoga |
| 03:30pm |  Juice/Milk |
| 05.00pm | Ashtanga/Hatha flow yoga |
| 07.00pm | Silence/Maun/Meditation class |
| 08.00pm | Dinner |
| 9:00pm | Self-study/discussion |
Fee For One Week Yoga Retreat : 300/- Euro Per Person